What is Vypress Messenger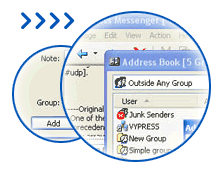 Vypress Messenger is the first real-time messaging system specifically designed for business Intranets. Using a peer-to-peer architecture, it delivers text messages from workstation to workstation in real-time, without the typical delay associated with conventional e-mail, and absolutely safe with high-grade encryption and digital signatures.
It's a simple fact. Efficient, flexible, instantaneous communication is critical to your company's success. That is why we created Vypress Messenger — to offer your company instantaneous real-time messaging. Whether you're working with people across the hall or around the world, Vypress Messenger can help you communicate better and faster than ever before.
Current version:

January 20, 2012

Client Platforms:

Windows

Supported protocols:

TCP/IP
Any other via NETBIOS
Now you can implement a new sales program for your sales force in hours instead of weeks. Or you can offer immediate, real-time assistance to network users instead of making them wait for return e-mail or a phone call.
The bottom line? The VyPRESS product family delivers instant messaging that's fit for business. Your business.
Designed to meet the need of today's most demanding businesses, Vypress Messenger offers the highest level of real-world usability, ease of learning and operation, and ergonomics. We designed Vypress Messenger by observing how real business people work. As a result, we focused on simplicity, clarity, directness, and efficiency. Every feature in Vypress Messenger is engineered to address real-world business concerns.
Unlike other instant messaging products, VyPRESS Research developed Vypress Messenger with the primary goal of usability in the LAN, WAN and Intranet environment. It is an amazingly effective tool for workgroups and corporate LANs, because it offers a variety of wide-range message broadcasting and message systems for problem solving.
Successful companies understand the importance of real-time communication. They use VyPRESS products to obtain a strong competitive edge. These VyPRESS equipped companies range from small firms to large corporations, including HP, Fokker Aerostructures, Reuters and Agfa.
Whether yours is a start-up company or a worldwide organization, our flexible solutions are the perfect choice for your business communications!